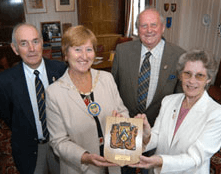 The brave and bitter battles fought in Belgium during the Second World War have been remembered in a presentation to the district's first citizen.
Members (Left to Right: Bill Clarke Chairman Ipstones Branch, Ken Pointon Group 4 Chairman, Nora Clarke Group 4 Secretary) Staffordshire Moorlands Group 4 The Royal British Legion in North Staffordshire gave a plaque to Staffordshire Moorlands District Council chairman Maureen Motum to mark their visit to Ostend.
They received the present from Belgian dignitaries following a week-long trip in May to commemorate the end of the war. The gesture followed a similar presentation made by legion members in the country the previous year.
Councillor Motum said: "It is an honour to be presented with such a gift and it will be displayed at the council's Moorlands House headquarters.
"The battles in Belgium against the Germans were very fierce during the war and each year people in the country remember victory day with grand celebrations."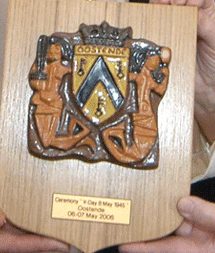 County Vice-Chairman George Hough and his wife Margaret where amongst the total of 46 Staffordshire Moorlands Group 4 legion members visited Belgium for the trip. They took part in two ceremonies: the dedication of a window in an English Church; and the commemoration of British graves at the main Ostend cemetery. They also visited the Zeebrugge naval base, Ypres, Diksmuide and the Trenches of Death, and the Dutch town of Sluis.